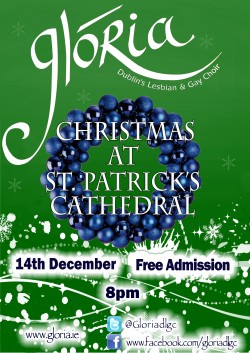 Glória, Dublin's Lesbian and Gay Choir, present their annual Christmas Concert from St Patrick's Cathedral
12th December 2012: Glória, Dublin's Lesbian and Gay Choir, will present their annual Christmas concert in St Patrick's Cathedral on Friday 14th December at 8:00pm.  It is now 18 years since the choir was founded and this will be their third consecutive Christmas performance in St. Patrick's Cathedral.  Each year, the concert attracts a capacity audience of more than 1,200 people.  This year's concert will be conducted by new musical director, Ian Packham. Ian was a singing member of the choir for many years and took over the role of Musical Director earlier this year.
"The festive favourites will all still be there," said Packham.  "We'll have the ones we know people love – 'O Holy Night', 'In the Bleak Mid Winter', and 'Walking in the Air'.  But this year we're adding what we hope will be some new favourites such as 'Going to Bethlehem', 'We Need a Little Christmas' from the musical Mame, and 'Sing' which was composed earlier this year by Gary Barlow and Andrew Lloyd Webber for the Queen's jubilee.
When the choir started in 1995, it had only 25 members.  Glória now has 65 members across four sections – sopranos, altos, tenors and basses. The Christmas Concert in St Patrick's is the highlight of the season for the members who have been learning Christmas carols since September.
"It's wonderful to see how this choir has grown," said Packham, "and to see the commitment and enthusiasm of these women and men.  These are all busy people: some are studying, most have busy careers, and some have kids at home.  They all give up their entire social life from September to December to prepare for this."
The choir's repertoire is wide ranging; from musicals to madrigals and from classical to camp.   As well as choral pieces, there will also be performances on the night by some of the choir's talented soloists.  This year, the Choir also has a number of Christmas albums on sale which can be bought on the night, or from Glória's website.
"We are particularly looking forward this year to performing Eric Whitacre's 'Lux Arumque', which we know will sound stunning in the natural acoustics of the cathedral," said Packham.  "And during the finale, we'll be inviting the whole audience to join us for of some classic Christmas standards, 'Silent Night', 'O Come All Ye Faithful', and 'Hark The Herald Angels Sing'.
Admission to the concert is free, and it is not possible to reserve seating so early arrival at the venue is advised. The choir would like to invite audience members to join them for a drink after the concert. Details will be announced after the performance.   For further information on this event and on the choir, please visit www.gloria.ie
"This has now become a fixture in a lot of family calendars.  We hope that people will come along to our concert to get their Christmas season off to a great start," Packham concluded.
Further information from:
Richard Deane publicity@gloria.ie