We are looking for women and men to join us for our busiest season ever!  Ok, we did say that about last year but in the coming year, we'll be playing host to Various Voices in June 2014 which has started out as a pan European LGBT choral festival but now has reached truly global dimensions with choirs coming form the US and Australia and places in between!
If you pass your audition, one of your first major performances with us will  be our annual Christmas carol concert from St Patrick's Cathedral. Join us as we sing in front of over 1,200 people. During the year we will also travel to Derry to take part in a choral competition, have our annual weekend away and perhaps take a train journey or two somewhere down the country for an outreach concert.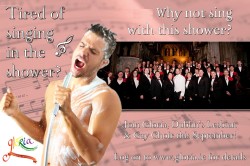 Becoming a member of the  choir involves a high level of commitment on your behalf. We rehearse every Tuesday night for 2 hours (7.30pm-9.30pm) in a city centre location. We also have a Sunday afternoon workshop (once per month.) We hold additional rehearsals from time to time in advance of major performances for individual sections.
Please email us and let us know if you'd like to be called for audition for our 2013/2014  autumn/winter season. The audition will be very short  relaxed and informal. Our musical director will run a few scales with you and will ask you to sing a few lines of a song of your choosing. You don't have to be able to read music to join, just have a pleasant voice! Also please note that you do not have to be gay to join our choir! You just need to be a good singer and supportive of our beliefts in equality for all.  Please email info@gloria.ie to be included on our audition list.