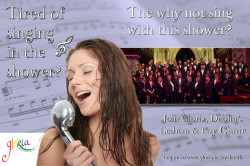 We are looking for women and men to join us for our forthcoming season!  We are in need of a few extra altos and basses.
If you pass your audition, one of your first major performances with us will  be our annual Christmas carol concert from St Patrick's Cathedral. Join us as we sing in front of over 1,200 people. During the year we will hope to take part in a choral competition, have our annual weekend away and perhaps take a train journey or two somewhere down the country for an outreach concert. If you pass your audition and decide to stick with us for another year, we hope to take part in Various Voices Munich in 2018.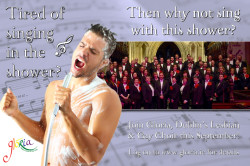 Becoming a member of the  choir involves a high level of commitment on your behalf. We rehearse every Tuesday night for 2 hours (7.30pm-9.30pm) in a city centre location. We also have a Sunday afternoon workshop (once per month.) We hold additional rehearsals from time to time in advance of major performances for individual sections. We are an open and inclusive choir to people of any sexual orientation. We would expect though that any member would be supportive of our aims and objectives in promoting equality for the LGBT community.
Please email us and let us know if you'd like to be called for audition for our 2015/2016  autumn/winter season. The audition will be very short  relaxed and informal. Our musical director will run a few scales with you and will ask you to sing a few lines of a song of your choosing. You don't have to be able to read music to join, just have a pleasant voice!  Please email info@gloria.ie to be included on our audition list by Friday August 21st. Please put 'Auditions' in the subject line of the email.
The auditions will be held on Sunday 6th September. The choir starts back rehearsing on Tuesday 15th September.