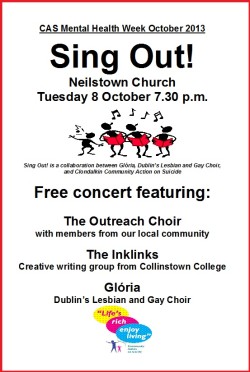 Sing Out! is a collaboration between us and Clondalkin Community Action on Suicide  This is a free concert that takes place as part of Clondalkin Mental Health Week – promoting positive mental health.Earlier this year we collaborated with CAS and others in the Clondalkin and wider area, forming an Outreach Choir that participated in a concert in the National Concert Hall.  Now we want to do the same thing for the concert on 8 October.
Everyone is welcome to join the Outreach Choir.
 All you need is:
 A love of singing!
Availability for rehearsal Tuesday 1 October 7 p.m. in the north Clondalkin area
Availability for the concert 8 October, including dress rehearsal starting at 6.15 p.m.
No previous experience needed.
No need to be able to read music.
No auditions will take place.
For more information and to register, please contact:
Karin Jonsson, Quarryvale Family Resource Centre,
Tel: 01-6230264, email: qrc@eircom.net