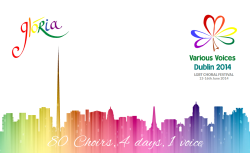 Dublin's Lord Mayor, Oisín Quinn officially launched 'Various Voices' on Thursday
20th March 2014. Various Voices is an international gay choral festival that takes
place every four years in a European city. This year Dublin will host the festival and
to celebrate the launch, Glória- Dublin's Lesbian & Gay Choir (DLGC) who won the bid to host the festival performed two songs in the presence of the Lord Mayor of Dublin, Cllr Oisín Quinn and invited guests.   The festival itself will run from 13th – 16th June 2014 in DCU and The Helix.
Over 80 choirs will take part with on average 2,500 singers coming from as far away
as Australia and New Zealand, to join Irish LGBT choirs and enjoy four days of
concerts and various workshops in celebrating this festival. Over the four day festival
visiting choirs will also perform at a range of free public concerts in Dublin city
centre, including City Hall and Meeting House Square. In association with Marriage
Equality, the acclaimed New York City Gay Men's Chorus and Glória DLGC  will
host the 'Big Gay Sing', at the Bord Gais Energy Theatre on Sunday 15th June 2014.
Tickets are available to purchase at bordgaisenergytheatre.ie.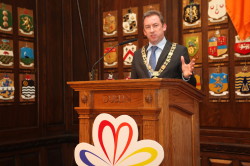 Dublin's Lord Mayor, Oisín Quinn, said "I am delighted to welcome the Various
Voices Choirs to Dublin for the 2014 Festival. Dubliners and visitors to the city will
have an opportunity during the 4-day festival in June to attend a good variety of
concerts. The City is proud to host this wonderfully vibrant festival with performers
from almost every corner of the world."
Ian Doyle, longstanding member of Glória  and Various Voices Festival
Director, said, "We are incredibly honoured and proud to be a part of Various Voices
Dublin 2014. Through four years of hard work, Glória Dublin's Lesbian and Gay
Choir, a voluntary community organisation, will bring the world to Dublin for four days
of music, song and craic. Some of the world's most innovative and entertaining
choirs will be travelling from across Europe, North America, and Australasia. With 80
visiting choirs Various Voices Dublin 2014 will be the largest international LGBT
event ever held in Ireland."
Various Voices Dublin 2014 is proudly supported by Dublin City Council, Fáilte
Ireland, Dublin Tourism, Rory O'Neill and Senator David Norris.
For further information contact:
Anthony McNamara at anthony@variousvoices.ie