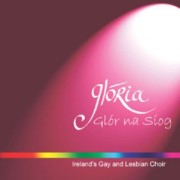 Glór na Sióg (Fairy Voices) is the first CD by Gloria (2002), Ireland's only gay and lesbian choir. Glór na Sióg looks back on the first seven years of the choir and includes material recorded live at a number of concerts and private recording sessions.
Track Listing
1. Don't Fence Me In
2. Hand in Hand
3. Ubi Caritas
4. Locus Iste
5. The Girl from Ipanema
6. I Dreamed a Dream
7. Teddy Bears' Picnic
8. El Grillo
9. Perfect Day
10. Ave Verum
11. Steal Away (Spiritual)
12. A Wonderful Day Like Today
13. Over The Rainbow
14. She Moved Through The Fair
15. Sew On A Sequin (Bonus Track)
Also available to download from iTunes, click here.