Let us introduce ourselves
Glória, Dublin's Lesbian and Gay Choir, was founded in October 1995. An ad placed in Gay Community News invited singers interested in forming a choir. About 25 people came along on that first night – some who still sing with the choir – and today we have a singing membership of around 54.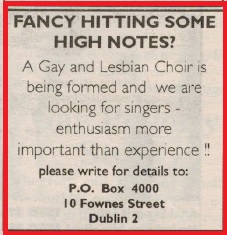 The choir's repertoire is wide ranging; from musicals to madrigals and from classical to camp. The songs are chosen sometimes to surprise, sometimes to challenge, but always to entertain!
Founded in October 1995 Glória was originally established to provide a safe and comfortable space for gay and lesbian people to meet and sing together, and to promote a positive image of Ireland's growing LGBT community. Glória maintains an environment that is inclusive, welcoming and supportive of people from all backgrounds and different life experiences irrespective of gender identity, or sexuality. Just as our repertoire is varied so is our membership, with singers from all walks of life. And for some it has been the place where they met their partner in love.
At the drop of a hat or the opening of an envelope
Glória has performed extensively throughout Ireland in Dublin, Belfast, Carlingford, Castlebar, Cavan, Cork, Drogheda, Dun Laoghaire, Galway, Limerick, New Ross, Tralee, Sligo, Waterford and Westport. We are looking forward to adding to this list in the future. Do get in touch if you think you might be able to host a concert or if you would like to invite us to sing at some event or other. Click here if you'd like to book us for your event.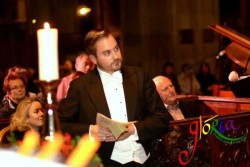 Internationally the choir has traveled to perform in London on a number of occasions, and in connection with the GALA Choruses Festivals we have been to Montréal in Canada and twice to the US; to Boston, Miami and San José.
In Dublin we have performed in the National Concert Hall, St. Patrick's Cathedral, Christchurch Cathedral, Bord Gais Energy Theatre and the 3 Arena. We have performed in the Waterfront in Belfast and in the Royal Festival Hall in London. We have entertained in pubs, churches, community centres and schools. We have performed at discos, at railway stations and shopping centres, in parks and on the street.
More than once we have been able to sing in wonderful venues such as Dublin City Hall and the National Gallery. We have sung at OutWest's weekends – and then danced the night away! – at the Pride in the Park Parties in Dublin, making a lot of noise in the parade beforehand. Glória has taken part in the Waterford Pride programme and in local arts festivals from Sligo to Rathmines. Our repertoire lends itself to celebrations such as birthdays and now weddings, as well as to more solemn occasions like the AIDS memorials we have participated in.
Always on a high note
Throughout our 21-year history the highlights, and the firsts, have been many. These are just a sprinkling of all the fabulous opportunities we have been given:
The first, slightly nervous performance in Mother Redcap's.
Being invited to give a concert and sing at a service of the Church of Ireland for the first time in 2000.
Singing with the Garda Male Voice Choir and the Garda Band in the NCH in 2002, as one of the first LGBT choirs ever to sing with their national police force.
Our first invitation to sing at a Roman Catholic event in 2002.
Being background singers at the Alternative Miss Ireland in 2006.
Taking part in the Holocaust Memorial in Dublin's Mansion House in 2007, singing a piece composed by our then Musical Director, Michael Finlay.
Performing at the Nokia Fashion Awards in 2007, (some of us finding the blue glitter from our striking make-up for days afterwards in the most peculiar places!).
Singing at the Bingham Cup in the Helix in 2008.
Hosting Various Voices Dublin 2014 which was truly a global LGBT choral festival Singing at the Bord Gáis Energy Theatre in February 2015 with MerQury and soprano Lynsey Curtin for 'Classical Queen'
Campaigning for the Yes vote in the civil marriage referendum in 2015
Performing with One Thousand other voices 'A Nation's Voice' for the 1916 Centenary commemorations
Performing for President Michael D Higgins and his wife Sabina in June 2016 in Aras an Uachtaran
Being accompanied by the RTE National Concert orchestra at a musical concert gala in the National Concert Hall in June 2016 with the Pink Singers, the Homonics and soloist Alison Jiear.
A wonderful spring concert with Diversity Choir in London in April 2017 where we jointly performed the 'Cantique de Jean Racine' and 'Beatus Vir' by Monteverdi
Winning the Mixed Choir competition and our sopranos and altos coming second in the Navan Choral Competition.
We received a mighty welcome in Cavan in May 2017 when we were invited to join the Cavan Singers in the Kilmore Hotel for a wonderful, celebratory night of music
Joining forces with Choral Confusion for a spectacular summer 'glórious fusion' concert in St. Fin Barre's Cathedral, Cork, June 2017
The winner takes it all!
Now and again Glória participates in choral competitions. As early as 2000 we won first prize at the Navan Choral Festival – prize; a jar of honey each – and we repeated this feat in 2002 and returned their again in 2015, 2016 & 2017 after a long gap.
We won again at the Cork International Choral Festival and at the New Ross AIMS Choral Festival in 2004. This led us to being invited back to both festivals in 2005 to give special performances. In Cork we gave our own concert, and in New Ross we world premiered a new Irish piece.
In 2005 Glória won the Gerry Ryan "Find José a Choir" competition. A fantastic response by national text vote led to us being selected from over 30 choirs throughout the country to sing with José Carreras at the Point Theatre. The reaction was very positive:
"their youthful, well disciplined sound proved ideal for their unaccompanied encore She Moved Through the Fair. Under their own director Liz Powell, they turned this to a moment of chilly poignancy whose contrast with Carreras's outpourings couldn't have been starker." Irish Times, 2 May 2005.
The Friday before that concert we performed on the Late Late Show. We have been seen on TV and heard on radio on many other occasions too, including as part of the Lyric FM Choirs for Christmas competition, which we haven't won, not yet anyway!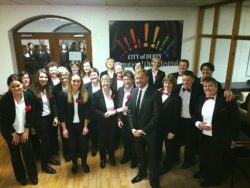 More recently we have started entering choral competitions again, after a long hiatus! We went back to Navan in May 2016 and came second in the Mixed Voice Choir competition and later that year, we entered the City of Derry International Choral Festival. Our ladies did us proud and came joint second with two great performances of U2's 'With or Without You' and Sean O'Casey's 'Down Where the Bees are Humming'.
Raising our voices for a good cause
Glória is a charity, but we also sing and raise money for other charities.Glória DLGC is a registered charity and we are registered with Revenue and with the Charities Regulatory Authority. Our charity registration number is 20056117 . These have included BeLonG To, GCN Forever, Marriage Equality, One in Four, and Temple Street Hospital, among many. Click here to see a list of the charities and initiatives we have supported over the years!
In 2009 we took part in the 24-hour long carol-athon "Sing for Simon" in Grafton Street, (where we were quite fortunate, getting a mid-afternoon slot). In 2010 we were invited by Gay Bray to hold a concert in Dun Laoghaire where the proceeds went towards the restoration and renovation of the Oscar Wilde panel at the DART station, and at the very end of that year we carolled for commuters in Heuston Station on behalf of St. Patrick's Hospital Foundation. More recently we gave a concert for the volunteers at Our Lady's Hospice, Harold's Cross, and sang at a World AIDS Day Christmas Concert in Christchurch Cathedral for the Bone Marrow for Leukemia Trust and The GUIDE Clinic. We were also delighted to have been invited by Pobal to sing at an OECD conference in Dublin Castle. We sang Christmas carols in aid of St Patrick's Hospital Foundation and the Peter McVerry Trust. We finished off 2015 in style with a jam packed concert in St Patrick's Cathedral. We were very fortunate to have representatives of the Yes Equality National campaign in attendance , Grainne Healy, Noel Whelan and Brian Sheehan.
Musical directors
We have been blessed with wonderful musical directors over the years. Here they listed in chronological order.
Michael Finlay (He so loved us that he came back again)
And the show goes on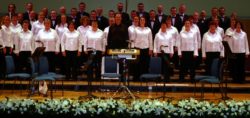 We had a great year 2016/2017 with our 21st birthday celebrations as well as trips to London, Cork, Cavan and the Derry and Naval Choral competitions.
2018 promises to be just as exciting with a trip to Munich for the Various Voices festival!